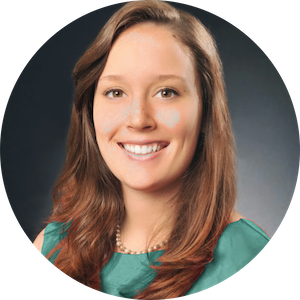 Paige Williams is a Associate Professional Counselor and a Nationally Certified Counselor
"The curious paradox is that when I accept myself just as I am, then I change."
–Carl Rogers
Intention
Paige's approach to therapy incorporates positive, goal-oriented psychology and elements of theoretical approaches to help people heal and transform their lives for the better.
She believes that true "wellness" is found when each domain of our lives is in equilibrium and moving in a positive direction, together. Her goal as a therapist is to help clients find a balance of healing, purpose, and direction through integrative approaches.
Paige currently accepts children (ages 5 and above), adolescents, adults and pre-marital couples and couples seeking marital enrichment.
Education
Paige earned a Bachelor's of Science in Psychology from Oglethorpe University in Atlanta in 2015 and a Master's degree in Clinical Mental Health Counseling from Mercer University in 2018.
During completion of her Master's degree, she was a part of both the Chi Sigma Iota Counseling Academic and Professional Honor Society, as well as The Honor Society of Phi Kappa Phi.
UNIQUE EXPERIENCE
Paige has worked in a variety of counseling settings, giving her experience in treating anxiety, depression, social and relational issues, family and couple conflict, and adjustment disorders.
Paige has worked with children and adolescents in both school-based and outpatient settings to provide mental health counseling. Helping children and parents through transitional periods and understanding new diagnoses (ADHD/ASD/others) is something she is very passionate about.
She uses techniques of person-centered therapy, Cognitive Behavior Therapy (CBT), Dialectal Behavior Therapy (DBT), play therapy, and is a Certified Prepare and Enrich Facilitator (Pre-Marital and marriage enrichment curriculum).
Paige is a member of the National Certified Counselor's Association, Licensed Professional Counselor's Association, American Counseling Association, and the Association for Child and Adolescent Counseling.
When Paige is not working, she enjoys time with her fiancé and two rescue dogs. Some of her passions are cooking, gardening, crafting and reading.
Consultations
Paige is also available for professional consultation. Please contact her directly at 404-789-7670 or via email at [email protected] to set up for a brief phone consultation to determine if her skills fit your counseling needs.
AREAS OF SPECIALTY:
ADD/ADHD/Spectrum Disorders
Adjustment Disorders
Aging
Anger Management
Anxiety
Assertiveness Training, Interview Skills & Self-Presentation
Attachment Issues
Boundaries
Childhood Trauma
Childhood Challenges (ages 5 and above)
Co-Parenting
Depression
Divorce, Divorce Contemplation, Blended Families
Empty Nest
Feeling Stuck
Intimacy & Romance
Life Transitions & Intentional Living
Men's Issues
Parenting Plans
Pre-Marital / Engagement Therapy – Certified Prepare & Enrich Facilitator
Remarriage/Family Blending
Relationship Issues
Self-Care/Body Image/Self-Image
Single Parenting
Spiritual Issues/Concerns
Teen/Adolescent Issues & Social /Peer Conflict
Tele-mental Health/Online Video Sessions
Values & Goals Development
Women's Issues
Counseling from a Christian perspective is available upon request